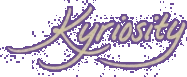 (KE'RE OS'I TE) N., A LONGING TO LOOK
INTO THE THINGS OF THE LORD [C.1996 < GK.
KYRIOS LORD + -ITY; IMIT. CURIOSITY]
Visit The Old Kyriosity Shop

Thursday, March 10, 2005 AD

Courthouse Conversations
I had jury duty today. Thank the Lord I didn't have to serve on a jury -- I dread the thought. But I did have some interesting conversations.

Conversation One:

Man wearing a baseball cap inside the courthouse: Nice headcovering there, sister.
Me wearing a pretty, light-weight Indian print bandana: Thanks.
Man wearing a baseball cap inside the courthouse: Is that for religious reasons?
Me: No, it's for unwashed hair reasons, but I do wear one to worship on Sundays.
Man WEARING A BASEBALL CAP INSIDE THE COURTHOUSE: Aw, that's too bad.
Me [only within the confines of my own head]: Look, brother, number one, if I should be wearing one all the time, then you should probably never be wearing one. And number two, take the hat-inside-the-courthouse out of your own eye before you get all sanctimonious on me, buster!

Conversation Two:

Well, I won't really recount this one, but I ran into Cathy -- a woman who'd been a close friend in high school. We hadn't seen each other in about 20 years or talked in about 10. So we did some catching up. We managed to stay out of emotionally difficult waters, and it was OK. And that's about all I'll say here about that.

Conversation Three:

Cathy and I to the desk clerk: OK, we can't leave without knowing -- are you Lisa or Leslie?

She was Lisa. She and her identical twin had also been in our class. It was quite the class of '84 reunion!
Posted by Valerie (Kyriosity) at 3/10/2005 05:33:00 PM • • Permalink
---
Links to this post:
---
Home