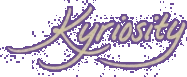 (KE'RE OS'I TE) N., A LONGING TO LOOK
INTO THE THINGS OF THE LORD [C.1996 < GK.
KYRIOS LORD + -ITY; IMIT. CURIOSITY]
Visit The Old Kyriosity Shop

Monday, March 21, 2005 AD

Bugs for Jesus
A note from a friend:
Heaven is very good looking because at last we will be in complete harmony and satisfaction with Christ and the fatigue and the miseries of this life will be gone. We are in a battle, but even if we are squashed like a bug in the process, we get to bear His Name and be bugs under His banner. His banner over us is Love. Fight for joy.
It's a grace to be even a squashed bug bearing His Name, and that grace is sufficient. Thanks, Sarah!
Posted by Valerie (Kyriosity) at 3/21/2005 01:33:00 PM • • Permalink
---
Links to this post:
---
Home