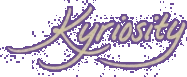 (KE'RE OS'I TE) N., A LONGING TO LOOK
INTO THE THINGS OF THE LORD [C.1996 < GK.
KYRIOS LORD + -ITY; IMIT. CURIOSITY]
Visit The Old Kyriosity Shop

Thursday, March 03, 2005 AD

Book Meme
(From Donna)

1. Grab the nearest book
2. Open the book to page 123
3. Find the fifth sentence
4. Post the text of the next fifth, sixth and seventh sentences on your blog, along with these instructions.
5. Don't you dare dig for that "cool" or "intellectual" book in your closet! I know you were thinking about it. Just grab what is closest!

Well, my closest book was The Christian Writer's Manual of Style. Unfortunately, page 123 is part of a 12-page list biblical and religious terms that shows their proper capitalization or lack thereof. So I checked page 23 -- a list of abbreviations for Bible books and related materials that I will likewise decline to bore you with. How 'bout page 223? Ah, now we're getting somewhere:
Use the Bible in most ordinary writing unless one occasionally needs the ring of extra authority implied by the full term. The term is usually set in Roman type--the Bible--unless a specific edition is referred to, such as The NIV Study Bible. See also, "Scripture Versus Bible."
Pretty exciting stuff, huh? The next closest book is the White Pages...just be glad I spared you a quote from that scintillating tome!
Posted by Valerie (Kyriosity) at 3/03/2005 09:56:00 AM • • Permalink
---
Links to this post:
---
Home