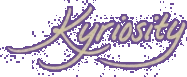 (KE'RE OS'I TE) N., A LONGING TO LOOK
INTO THE THINGS OF THE LORD [C.1996 < GK.
KYRIOS LORD + -ITY; IMIT. CURIOSITY]
Visit The Old Kyriosity Shop

Friday, February 04, 2005 AD

Third Try's the Charm
I got Gryffindor first, but seeing as how I am a devout coward, I didn't think it fit. The question that threw me on the first try was #2. My best friends are all of the female persuasion, so I answered option 1. But if I were married, my husband would be my best friend, and I'd ever so non-usurpatiously choose option 3. Only I'd yell something more grief-stricken and dramatic than the option given. If I really am a Gryffindor, I'm of the Neville Longbottom variety.

Next I got Slytherin, but didn't particularly care for that, either, for obvious reasons.

Finally, on my third try I got...



You are smart, calm and calculating in a situation or problem you're faced with. You base your decisions more of logic than a standard of morals. But be careful, sometimes in your search for knowledge you come across as cold as Spock.

Hmm...that doesn't really fit, either, but it really seems a bit of a stretch to try a fourth time to get the final option, Hufflepuff. But doesn't Hufflepuff just sound nicest? Reminds me of Heffalumps, and H.R. Pufnstuf, and marshmallow fluff, and those are nice things to be reminded of, eh? But the Hufflepuff description doesn't quite work, either.

Take the Hogwart's Sorting Hat Quiz, made by The Genki Gang.
Posted by Valerie (Kyriosity) at 2/04/2005 06:53:00 PM • • Permalink
---
Links to this post:
---
Home