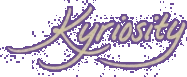 (KE'RE OS'I TE) N., A LONGING TO LOOK
INTO THE THINGS OF THE LORD [C.1996 < GK.
KYRIOS LORD + -ITY; IMIT. CURIOSITY]
Visit The Old Kyriosity Shop

Wednesday, February 16, 2005 AD

One of Those Age-Old Questions
How do you throw away a garbage can? I left a decrepit one out for the bulk trash pick-up this morning. It didn't get taken. I probably should have left a note on it.

They did take the TV-tray rack (I sent the TV trays to Goodwill, but forgot about the rack) and two rugs. One of the rugs I got to throw out a second-floor window. That was fun. The other one I slid down the stairs. It slammed into a desk, which slammed into a wall, which put a chip in my new paint. That was not so fun.

In other news, I'm about halfway through my delicious chocolate raspberry truffle cheesecake with raspberry sauce, courtesy of Margaret. I had some for breakfast this morning...isn't that healthy? Also this morning I finished off the remainder of the Tostitos Hint of Lime Tortilla Chips I'd taken to the fellowship dinner on Sunday. Those are so yummy. I could skip the tortillas, though. Just give me a hint of lime salt lick and I'd be happy.

Just to annoy John R. (in case my recent distinction between lilac and lavender didn't do the trick), I will apologize for the lameness of my recent entries and my lack of responsiveness to comments. I know I owe some folks some e-mails, too. I'd blame it on busyness, but it's not as if I have any productivity to show for it. More to do with tiredness and laziness and a low-grade case of the blahs.
Posted by Valerie (Kyriosity) at 2/16/2005 12:13:00 PM • • Permalink
---
Links to this post:
---
Home