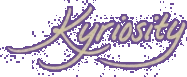 (KE'RE OS'I TE) N., A LONGING TO LOOK
INTO THE THINGS OF THE LORD [C.1996 < GK.
KYRIOS LORD + -ITY; IMIT. CURIOSITY]
Visit The Old Kyriosity Shop

Monday, February 21, 2005 AD

'Look to Your Baptism'
A couple dear and well-meaning friends have, on occasions when I've written/talked about my tendency to doubt, told me to "look to my baptism." I am given to understand that this encouragement has a reddish-brown hue. All's I know is that I don't get it.

I recently found the bulletin from the day I was baptized -- December 10, 1978. There were about 15 people baptized that day. I remember most of them, and sure as heck wouldn't want to look to their baptisms for any sense of assurance.

But I should be able to look to my baptism for something. Frankly, I've never thought much of it at all. So whether you're auburn, blond, brunette or bald, I'd be interested in your answer to the question, What should I think about it? Here's the rules: a) I'm firmly paedo...I've no interest in discussing the credo position. 2) Pretend you're talking to a 7-year-old...speak slowly, use small words, and keep it brief. iii) Anybody starts fighting and I'll delete this post immediately. Pretend you're in a tea room -- no saloon brawls allowed.
Posted by Valerie (Kyriosity) at 2/21/2005 01:00:00 PM • • Permalink
---
Links to this post:
---
Home