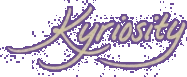 (KE'RE OS'I TE) N., A LONGING TO LOOK
INTO THE THINGS OF THE LORD [C.1996 < GK.
KYRIOS LORD + -ITY; IMIT. CURIOSITY]
Visit The Old Kyriosity Shop

Thursday, February 10, 2005 AD

Bye-Bye, Reformed R Us
According to this item, my favorite real-life bookstore is going out of business. I'm probably partly to blame...I haven't shopped there for ages. I used to call it Reformed R Us because the owners were PCA folks and they always had a small section of Ligonier products available. Frankly, if they'd been more Reformed they might have kept my business better. That Ligonier section was small, and in the back, leaving room for huge displays of the latest Left Behind drivel in the front. When I wanted something specific, they seldom had it available. At one point they had a whole end unit full of Canon's family series, then they disappeared never to be seen again. It became the same bland generic evangelicalism that made me stop visiting the Baptist Bookstore. Yep...I know they're Lifeway now, but it's been that long since I shopped there. I worked there for two and a half years, too -- my first full-time job out of college. My sister-in-law's sister has worked at Greenleaf off and on for years, and Brian Davis (formerly of Barukatash) did a brief stint there, too.

I have three particularly strong memories of the store. One year I went to a Good Friday service put on by some churches in the area -- a seven last words kind of thing with brief messages and hymns. The most dreadfully, hideously liberal twaddle I'd ever heard all in one place. I slipped out quietly after a while. At least one other person had also left, but not so quietly -- he said something like, "I've had enough of this!" as he made his exit...loud enough to be heard. Anyway, I left there and went to Greenleaf for a couple hours. This was in the old days when they were more distinctively Reformed and I was just beginning to choke on the TULIP bulb, but I needed to be in an atmosphere of orthodoxy to counteract the silliness I'd left. The other memory is recounted here. The third memory is going there with Paulo and Wayne Whitmer the first time I'd met them in person, after we'd had dinner with Brian.
Posted by Valerie (Kyriosity) at 2/10/2005 03:46:00 PM • • Permalink
---
Links to this post:
---
Home