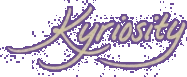 (KE'RE OS'I TE) N., A LONGING TO LOOK
INTO THE THINGS OF THE LORD [C.1996 < GK.
KYRIOS LORD + -ITY; IMIT. CURIOSITY]
Visit The Old Kyriosity Shop

Wednesday, February 23, 2005 AD

Bad Movies to Watch When You're Depressed
I watched "Lost in Translation" last night. I'm surprised the suicide rate didn't skyrocket when that one hit theaters. Blech.

I was going to watch "Big Fish" tonight, but the drive jammed and it took me two hours to get it opened again. Probably for the best...I'd probably have ended up bawling like I did the first time I watched it. Not that it's a depressing movie, but it touched some kinda raw nerve in me, and that's the only kinda nerves I've got right now.
Posted by Valerie (Kyriosity) at 2/23/2005 10:15:00 PM • • Permalink
---
Links to this post:
---
Home