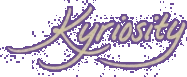 (KE'RE OS'I TE) N., A LONGING TO LOOK
INTO THE THINGS OF THE LORD [C.1996 < GK.
KYRIOS LORD + -ITY; IMIT. CURIOSITY]
Visit The Old Kyriosity Shop

Tuesday, November 30, 2004 AD

'Never Be Afraid to Hear Me Say I Love You'
That's from an old post in which I was puzzling over "hearing" God. I still don't know what to make of those experiences, but the question I ought rather to be asking is Is it true? In this case, does God want me never to be afraid to hear Him say He loves me? Because I am, of course. Terrified. Scares the euphemism out of me. I suspect, however, that I oughtn't be afraid. Perfect love casts out all that sort of fear, doesn't it? Why is it so blasted hard to believe???

I'm able to write about this, by the way, because I'm on my way out of the Slough. If I were still deeply mired, I wouldn't be barfing my emotional guts quite so publicly. As it is, I'm able to look at the situation with some degree of detatchment and try to figure out exactly where it was I went wrong. So my 10 (at present) guardian angels (do flaming swords come standard issue with that job?) needn't wring their wings with worry. Prayers, however, are never unappreciated.
Posted by Valerie (Kyriosity) at 11/30/2004 02:07:00 PM • • Permalink
---
Links to this post:
---
Home