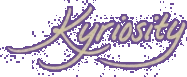 (KE'RE OS'I TE) N., A LONGING TO LOOK
INTO THE THINGS OF THE LORD [C.1996 < GK.
KYRIOS LORD + -ITY; IMIT. CURIOSITY]
Visit The Old Kyriosity Shop

Monday, November 01, 2004 AD

Mean and Selfish Valerie
Yesterday a family at church hosted a Reformation Day celebration. I was holding their youngest (who I'd guess to be somewhat under the age of 2), who had just gotten up from her nap and who (child after my own heart!) was taking quite some time to gain full wakefulness. I'd had the wee groggy thing on my lap for a half hour or so when her mother assured me I could put her down if I was tired. Another mom offered to take her and I said, "No way, I'm not sharing. You've got your own!"

I was punished a few hours later. The Ts' driveway is very dark, and there were still quite a few cars around, so one of the guys offered to turn my car around for me so I could get out more easily. I swapped him my keys for his youngest son (about 7 months old), who, upon finding himself in strange arms, promptly commenced to wailing.

I still marvel when a little one likes me. It seems like an incredible and utterly underserved gift. Unexpected, too. Wailing doesn't surprise me; laughter does. I still tend to be timid and hesitant around kids, but I'm grateful to be involved in a church community where I at least have a chance to try!
Posted by Valerie (Kyriosity) at 11/01/2004 01:28:00 PM • • Permalink
---
Links to this post:
---
Home