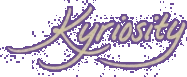 (KE'RE OS'I TE) N., A LONGING TO LOOK
INTO THE THINGS OF THE LORD [C.1996 < GK.
KYRIOS LORD + -ITY; IMIT. CURIOSITY]
Visit The Old Kyriosity Shop

Monday, November 01, 2004 AD

Communion Reflection 2: Playing Make-Believe
Yesterday during the Lord's Supper, I was thinking about what it'll be like at the consummation of the Kingdom, when we are "saved to sin no more." And I thought that I need to approach life in the here and now as one grand game of make believe: When temptation strikes, what would it be like to say, "Let's pretend this is the New Creation, and I'm incapable of sinning"? I wonder if that could be an effective tool in the fight to be obedient.

It has this going for it: It's a childlike approach. When I let myself be all grown up and think, "Oh dear. Here I am facing this temptation again. I wonder if I'll be able to withstand it this time. Probably not." I'm already more than halfway to defeat.

I think Communion is a bit like Jesus coming to a little girl's tea party, squinching Himself into a little chair between Raggedy Ann and a teddy bear, taking seriously her seriously playful hospitality. And then I squirm a bit and think of all the ways that analogy breaks down. How much growing down I have left to do!
Posted by Valerie (Kyriosity) at 11/01/2004 06:47:00 PM • • Permalink
---
Links to this post:
---
Home