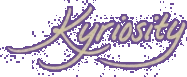 (KE'RE OS'I TE) N., A LONGING TO LOOK
INTO THE THINGS OF THE LORD [C.1996 < GK.
KYRIOS LORD + -ITY; IMIT. CURIOSITY]
Visit The Old Kyriosity Shop

Thursday, November 04, 2004 AD

Bone Gardens
I wasn't going to go to the cemetery yesterday. No one I knew (other than Arlette, of course) was going, and I figured by the time I walked to my car blocks away, I'd never make it back to the procession in time before it left. But the procession was going the same way I was. It passed me about half a block before I got to my car, and I was, to my surprise, able to catch up not too many blocks away and slip in at the tail of the line of cars. (Note: I went through more red lights yesterday than in all my previous life before!) We wound through the city for over half an hour before arriving at the cemetery clear on the other side of town. It's the first time I've been to a graveside service since reading this article by Jonathan Daugherty in which he writes,
I met this old man one time, a hearse driver in fact, who told me that back home in Kentucky when he was a boy they used to sometimes call graveyards "bone gardens," or his favorite, "skull orchards." Well, that's just about right. Sounds like someone has been reading his Bible back home in Kentucky.

It is in faith and hope that we plant each seed and bulb into the earth. And it is in faith and hope that we lay down our fellows in the faith. Paul, in I Corinthians 15, even explains how it is that the dead and rigid are made alive and living in terms of sowing kernels of grain. Just as gardens are cultivated in rows with families of plants together, and just as we sit and kneel together in rows with our families as we worship, so do we rest together in similar form out in the churchyard. In corruption and curse we are lowered beneath the clay and in glory we are raised to forever be with the Man who gave us life. Perishable bodies put on the imperishable and mortal bodies put on immortality. And we will see, with our very own eyes, our Lord as He is.
Posted by Valerie (Kyriosity) at 11/04/2004 10:17:00 AM • • Permalink
---
Links to this post:
---
Home