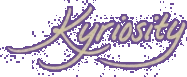 (KE'RE OS'I TE) N., A LONGING TO LOOK
INTO THE THINGS OF THE LORD [C.1996 < GK.
KYRIOS LORD + -ITY; IMIT. CURIOSITY]
Visit The Old Kyriosity Shop

Monday, October 11, 2004 AD

News of a High Degree of Excellence
My dear friends Mark and Sarah have a new call in Dayton (making Barb the object of my envy for her proximity thereunto!) and their house settlement came off without a hitch on Friday after several near-miss contracts over the past year.

A few months ago the Carys' daughter, Elisabeth, made her brother, Paul, an EGEATP bracelet, which, I am told, he wears regularly. The family has for years been an example to me of people who actually believe that Everything's Going Exactly According to Plan. They live with confident trust in the beneficent sovereignty of God, and the past year's difficult church situation/job search/home selling drama has been a vivid backdrop in which to see that trust in action.

The Divine Playwright also serves as a masterful Set Designer for His productions. Every motivation of our lives should be to honor His theatrical accomplishments with an extravagance that makes naught of the Emmys, Oscars, Tonys, and Golden Globes combined.

I can't always manage such an attitude, but at moments like this, when I've seen one of His trillion trillion trillion plays within The Grand Play reach a hoped-for resolution, I can muster enough faith to praise Him for things yet unresolved: Glory be to God for my broken computer! For my work frustrations! For the slowness of my moving progress! For challenging contractor issues! For singleness and barrenness! For all manner of past pains and present perplexities! Alleluia. alleluia, alleluia!

I'm reminded of how I felt on the day I wrote about in this post -- a hardly describable giddy grasp of the truth that He should be worshiped without ceasing at all times and in all circumstances. (BTW, the book alluded to in that post was Almighty Over All -- read it if you haven't.) It's not often that I feel the goodness of that truth, so I'm relishing it while I do!
Posted by Valerie (Kyriosity) at 10/11/2004 01:48:00 PM • • Permalink
---
Links to this post:
---
Home