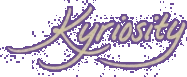 (KE'RE OS'I TE) N., A LONGING TO LOOK
INTO THE THINGS OF THE LORD [C.1996 < GK.
KYRIOS LORD + -ITY; IMIT. CURIOSITY]
Visit The Old Kyriosity Shop

Tuesday, September 21, 2004 AD

What Were You Doing at Half Past Midnight?
I had just woken up and realized that I absolutely had to go sleep in the other bed. My mom had bought the single mattress for the guest room, and since she's typically the only guest, she'd bought one to suit her comfort. Hint: she's from the Granite State.

So I gathered up my pillows and sleepily staggered out the door to the hallway...where a full length mirror was proped against the wall...and my armful of pillows caught the edge of the mirror. CRASH! Oh well, one less thing to decide what to do with. Fortunately it was just a cheap thing, and already cracked. And fortunately most of the glass stuck to the backing it was glued to, so I was able to get it into a box without too much trouble.

And I did sleep much more comfortably in the other bed!
Posted by Valerie (Kyriosity) at 9/21/2004 02:29:00 PM • • Permalink
---
Links to this post:
---
Home