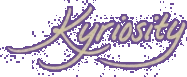 (KE'RE OS'I TE) N., A LONGING TO LOOK
INTO THE THINGS OF THE LORD [C.1996 < GK.
KYRIOS LORD + -ITY; IMIT. CURIOSITY]
Visit The Old Kyriosity Shop

Tuesday, September 28, 2004 AD

Someone I Know Drowned Last Week
I didn't know Vance (link requires login) well. In fact, it took me half a day to pull his picture out of the recesses of my mind. His wife I remember a little better (though this was the first I'd heard that they'd gotten married) as she took over the CCF newsletter after I stopped attending several years ago. I'm sure there were a number of people on the Outer Banks trip that I did know, though -- the same crowd has been going year after year. (And, contrary to the Sun article, it's not a retreat, it's just a social event.)

Someone I know died. And tragically: young, healthy guy with a beautiful new wife. Even though Vance's death will make no impact on my day-to-day life, it's still unsettled me for the past 24 hours. Not in the sense that I'm Thinking Deep Thoughts About Life and Death -- I'm not -- just in the sense of shock and grief, however muted by the distance of our acquaintance.

For years, whenever I talk to my mom (who is now 75), her end of the conversation has as often as not included a litany of who's dying and who's dead among her acquaintances. I never know who any of these people are, so it used to annoy me to listen to her. But I've learned to be glad for her to tell me, because I know she needs to talk about it. Vance's death makes me realize why: You never get over it. You never get used to it. It's always a shock and a sadness. And for someone my mother's age, it buffets with relentless frequency.

Teach us to count the days
Teach us to make the days count
Lead us in better ways
Somehow our souls forgot
Life means so much....
Posted by Valerie (Kyriosity) at 9/28/2004 06:25:00 PM • • Permalink
---
Links to this post:
---
Home