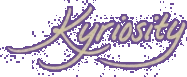 (KE'RE OS'I TE) N., A LONGING TO LOOK
INTO THE THINGS OF THE LORD [C.1996 < GK.
KYRIOS LORD + -ITY; IMIT. CURIOSITY]
Visit The Old Kyriosity Shop

Tuesday, September 21, 2004 AD

'Pots and Vats'
Among my possessions is a tiny Revere Ware copper-bottom pot that holds about a cup. It's useful for things like melting small amounts of butter. That's about the size of pot I am.

There's a grocery store that I stop by on occasion, but on almost every trip, something sets me off -- some stupidity in service or the like. So when I go there, if I remember, I pray my way through the store...through everything I'm looking for and might not find, through every clerk, etc. Yesterday I made it through with only one mutterance, and that didn't have any cuss words in it. Such a pathetic thing to look upon as a victory, yet I thanked God for it very much.

If someone told me that my temper would be under control if only I would gouge out my eye or cut off my arm, I seriously think I'd do it. But dying to self, though much more drastic, is much less decisive, so the problem doesn't go away so quickly or simply.
Posted by Valerie (Kyriosity) at 9/21/2004 08:23:00 PM • • Permalink
---
Links to this post:
---
Home