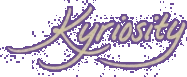 (KE'RE OS'I TE) N., A LONGING TO LOOK
INTO THE THINGS OF THE LORD [C.1996 < GK.
KYRIOS LORD + -ITY; IMIT. CURIOSITY]
Visit The Old Kyriosity Shop

Thursday, September 09, 2004 AD

Mistakes I Won't Make Twice
A few weeks back I wrote about the yucky cream cheese I wouldn't buy again. Now I have two new products for my "I've learned from my mistakes" list:

1) Canadian Naturelle Spring Water. If y'all Canuks' water actually tastes like this, I pity you. This stuff is nasty. I keep a case of bottled water in my car, because I need to be drinking a lot of the stuff. I think I'm going to have to give up on this case and buy another brand.

2) Toilet paper made from recycled paper. (Note that I did not say it was recycled toilet paper!) It was on sale much cheaper than even the store brand. But that does not make up for the texture of tree bark. 'Nuff said.

On the other hand, I have been enjoying using Bonny Doon Farm Rose Geranium Body Lotion. I don't typically go in for smelly stuff (my sinuses are generally unappreciative of scents), but I won a bottle of this stuff in a "guess the mystery staff person" contest at work. It was his answer to "Who is your favorite musician?" that gave it away: Prince and Frank Zappa. You can't sit a cube away from a guy for nigh unto five years without picking up that sort of thing. Well, at least not if he's a guy who talks about that sort of thing.

And in other news, God is good. After several days of attitudinal nastiness that I cannot blame on hormotions, I finally woke up this morning with some semblance of cheer. It seems all my prayers these days are Mercy, mercy, mercy, and when it comes it is sweet indeed.
Posted by Valerie (Kyriosity) at 9/09/2004 10:27:00 AM • • Permalink
---
Links to this post:
---
Home