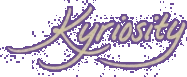 (KE'RE OS'I TE) N., A LONGING TO LOOK
INTO THE THINGS OF THE LORD [C.1996 < GK.
KYRIOS LORD + -ITY; IMIT. CURIOSITY]
Visit The Old Kyriosity Shop

Friday, September 24, 2004 AD

'I Am of Paul.' 'I Am of Apollos.'
Most folks who talk about this passage apply it to contemporary denominationalism, calling it a Bad Thing. I'm not sure the analogy is quite right. There are significant and non-ignorable doctrinal differences amongst many denominations, whereas I can't think of any evidence that Paul, Apollos, Cephas and Jesus disagreed on doctrinal issues. Even Paul's chewing-out of Peter over the issue of eating with Gentiles wasn't really a docrinal matter, but an issue of practice.

My guess is that the issue in Corinth wasn't a real doctrinal difference but either a) an imagined doctrinal difference, in which the Corinthians were fabricating conflict by pitting non-contradictory teachings against one another, of b) a "cult of personality" problem.

Anybody know anything more about this than I do?
Posted by Valerie (Kyriosity) at 9/24/2004 03:02:00 PM • • Permalink
---
Links to this post:
---
Home