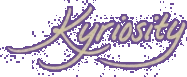 (KE'RE OS'I TE) N., A LONGING TO LOOK
INTO THE THINGS OF THE LORD [C.1996 < GK.
KYRIOS LORD + -ITY; IMIT. CURIOSITY]
Visit The Old Kyriosity Shop

Monday, September 13, 2004 AD

Dead 'Puter
I spent a good bit of Saturday building my new computer, and then when Mike (hubby of the BadgerMum) called to talk me through the final steps, we discovered that the thing just wouldn't work. Mike thinks the motherboard is bad. I attempted yesterday to try the old motherboard in the new case, since evidence points to a bad power supply in the old case, but didn't know where to plug in some of the wires -- like the one to the power button, which is kinda important -- so I had to give up on that, too.

Ergo I went all weekend without a computer, and while the walls did not start to crawl, I did have a dream about bugs. There was this foot-wide trail of ants and other bugs pouring through my house. Being quite unfond of that particular sector of the animal kingdom, I did not find this to be a pleasant way to spend a REM cycle.

In the meantime, I cannot access either Hotmail or Gmail, so if anyone was trying to reach me via either of those, I'm not ignoring you, I'm just oblivious to you. I'm sure you'll find that comforting!
Posted by Valerie (Kyriosity) at 9/13/2004 01:25:00 PM • • Permalink
---
Links to this post:
---
Home