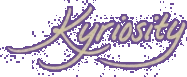 (KE'RE OS'I TE) N., A LONGING TO LOOK
INTO THE THINGS OF THE LORD [C.1996 < GK.
KYRIOS LORD + -ITY; IMIT. CURIOSITY]
Visit The Old Kyriosity Shop

Wednesday, September 15, 2004 AD

Another Corollary to the Nancy Rule
Do not attempt to sort through a fat folder of letters late at night...especially letters from a particularly difficult period of your life. You will 1) end up a blubbering mess, and b) not be able to throw a single one away! Fortunately, I did get through the rest of the box of files other than that particular folder, and the vast majority of it ended up in the trash.

It's probably a good thing my computer's defunct, or I'd have run downstairs half a dozen times to share some of the keepers I found: two of my all-time favorite greeting cards (Outside, with picture of two particularly nerdy folks: "Happy birthday from the two most fun people you know." Inside: "Kind of makes you want to broaden your social circle, doesn't it?"; Outside: "My job is like an alligator with its jaws wired shut." Inside: "It sucks swamp water."), a favorite Kate baby picture, a letter from Kate's parents inviting me to live with them after I came home from Yellowstone, English papers with fun comments from the professor ("It's nice to read a paper I can critique for content rather than mechanics."), my complete college transcript, etc., etc.

Despite having to call it quits because of the letters, I was happy to have accomplished something for the evening. Progress is good!
Posted by Valerie (Kyriosity) at 9/15/2004 01:04:00 PM • • Permalink
---
Links to this post:
---
Home