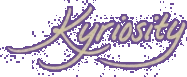 (KE'RE OS'I TE) N., A LONGING TO LOOK
INTO THE THINGS OF THE LORD [C.1996 < GK.
KYRIOS LORD + -ITY; IMIT. CURIOSITY]
Visit The Old Kyriosity Shop

Tuesday, August 24, 2004 AD

One of My Favorite Limericists
For those of you who do not read The Home Realm, let me copy here for you a few of Samantha's wonderful Limericks:
There once was a gal at the ocean
Lack of clothing (not hers) caused commotion
Poor little young ladies (with parents from hades)
Clothed in little but suntanning lotion

There once was a gal whose own reading
Was in need of improvement exceeding
What went in at the eye, in the mind went awry
And led into thinking misleading

There once was a gal so annoyed
She'd be one you'd want to avoid
Her mood, oh so grumpy, and down in the dumpy
Would undoubtedly inspire Sigmund Freud

There once was a gal who sat gazing
At her navel; It was so amazing!
She just had to share, with the people out there
A navel which was so worthy of praising
I wish Samantha'd been around to enter a certain Limerick contest a couple years back. She would've made the judging more interesting.
Posted by Valerie (Kyriosity) at 8/24/2004 12:43:00 PM • • Permalink
---
Links to this post:
---
Home