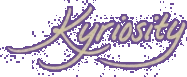 (KE'RE OS'I TE) N., A LONGING TO LOOK
INTO THE THINGS OF THE LORD [C.1996 < GK.
KYRIOS LORD + -ITY; IMIT. CURIOSITY]
Visit The Old Kyriosity Shop

Thursday, August 26, 2004 AD

Not Paying the Piper
(I just had to rip off John R's title as well as the content of his post!)

This title looks like something I ought to read. And being able to read it online for free is extra-specially cool. More free Piper here and here.

I've been feeling down-in-the-dumpsy for too many days running, so last night I pulled out one of my secret weapons -- the fourth disc in R.C.'s Spirit of the Fruit series, on the topic of joy -- and listened to it twice while I finally got some much needed housework done. Piper's book sounds like it might be another useful secret weapon.
Posted by Valerie (Kyriosity) at 8/26/2004 01:52:00 PM • • Permalink
---
Links to this post:
---
Home