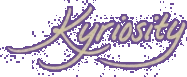 (KE'RE OS'I TE) N., A LONGING TO LOOK
INTO THE THINGS OF THE LORD [C.1996 < GK.
KYRIOS LORD + -ITY; IMIT. CURIOSITY]
Visit The Old Kyriosity Shop

Monday, August 09, 2004 AD

Life's Little Embarrassing Moments
I'm doing some re-design work for Gideon and accidentally posted this earlier while logged onto his blog rather than mine:
Perhaps I'm Just a Cynic
Some kid just wiped out on his bike in the alley across the street. The wailing was just a bit too loud and dramatic for me to believe there was anything seriously wrong. Sho' 'nuff...he quieted down as soon as his brother? friend? went to fetch a parent. Just a scraped knee and he walked away under his own power.
That'll teach me to be unsympathetic with the misfortuntes of others, eh?
Posted by Valerie (Kyriosity) at 8/09/2004 08:18:00 PM • • Permalink
---
Links to this post:
---
Home