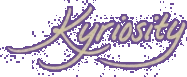 (KE'RE OS'I TE) N., A LONGING TO LOOK
INTO THE THINGS OF THE LORD [C.1996 < GK.
KYRIOS LORD + -ITY; IMIT. CURIOSITY]
Visit The Old Kyriosity Shop

Thursday, August 12, 2004 AD

I'm So Spoiled
I got to meet Kathryn Lilia tonight! What a sweet little cutie patootie. And I got to hold her and snuggle her, too.

Oh, yeah, and her parents...I think their names are Mark and Christine...or something like that...were there, too. ;-)

This Classical Dad was in town for a new teacher training put on by Rockbridge Academy, which has many organic ties, though no formal ones, with CREC. Matt Colvin's brother Grant teaches there, too. This Classical Mom and This Classical Cutie Patootie came along for the ride. So when I discovered that they were in Maryland, I pounced on the opportunity to add another dot to my blogroll.

I was 20 minutes late meeting the Stewarts at their hotel because, in true Valerian fashion, I took a wrong turn. But this time it wasn't entirely my fault. The directions said "Crain Highway," with no mention of Route 3. The road signs said "Route 3," with no mention of Crain Highway. Yet somehow I was supposed to discern that they were one and the same. But I won't complain too much. When I was coming back from my wrong turn, I got to see a gorgeous, full-180° rainbow, and consider the promises of our faithful God.

And eventually we got to have a lovely conversation over dinner at Applebee's!
Posted by Valerie (Kyriosity) at 8/12/2004 12:02:00 AM • • Permalink
---
Links to this post:
---
Home