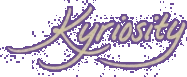 (KE'RE OS'I TE) N., A LONGING TO LOOK
INTO THE THINGS OF THE LORD [C.1996 < GK.
KYRIOS LORD + -ITY; IMIT. CURIOSITY]
Visit The Old Kyriosity Shop

Tuesday, August 31, 2004 AD

Great Quote
Heisted from TulipGirl:
"It cost him much to part with his Son; it costs him nothing to give every other blessing. He grudges not, but delights to bestow them. He is weary of withholding, but never weary of giving. Now, if he freely parted with what cost him such an infinited sacrifice, will he refuse us what costs him nothing but the delight of giving? He delights to give us his Holy Spirit. He delights to quicken us, to renew us, to sanctify us, to fulfill in us all the good pleasure of his goodness, and the work of faith with power.

"Will he then refuse us his Spirit? Will he refuse to make us holy? Will he need many arguments to persuade him to do so? Impossible! For he has already given his Son. And 'how shall he not with him also freely give us all things?'" --Horatius Bonar
I think I ought to write that on a two-by-four and beat myself over the head with it.
Posted by Valerie (Kyriosity) at 8/31/2004 07:54:00 AM • • Permalink
---
Links to this post:
---
Home