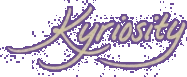 (KE'RE OS'I TE) N., A LONGING TO LOOK
INTO THE THINGS OF THE LORD [C.1996 < GK.
KYRIOS LORD + -ITY; IMIT. CURIOSITY]
Visit The Old Kyriosity Shop

Wednesday, August 18, 2004 AD

Cute Promotion, But....
I recently referred a colleague's wife to my dentist. Today I got in the mail a thank-you note from the dentist...with two lottery tickets. The note had a line about patients who refer others being "worth a million." It's a cute and memorable promo, I just have no use for state-run lotteries, and I don't much care for state programs they probably fund.

I also don't much care for the glimmer of greed I find stirring in myself when I start wanting to win and thinking how much easier it would make things if I did. And I fear that I'll have some feeling of discontent if when I don't win.

Now if you'll excuse me, the numbers will be announced any minute now....
Posted by Valerie (Kyriosity) at 8/18/2004 08:00:00 PM • • Permalink
---
Links to this post:
---
Home