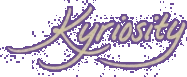 (KE'RE OS'I TE) N., A LONGING TO LOOK
INTO THE THINGS OF THE LORD [C.1996 < GK.
KYRIOS LORD + -ITY; IMIT. CURIOSITY]
Visit The Old Kyriosity Shop

Thursday, August 26, 2004 AD

Canadian Tax Authority Warns Churches about Speaking on Moral Issues
(From today's PCA's ByFaith e-mail)
The legal counsels for the Evangelical Fellowship of Canada (EFC) and for the Canadian Conference of Catholic Bishops met with the Canada Revenue Agency (CRA) in early March and were warned by revenue officials that if they became involved in partisan political activity during the then-upcoming 2004 federal election they would risk losing their tax-exempt status. According to the CRA, to avoid being partisan means not addressing issues on which the competing political parties have opposing views. Not only would churches be penalized for telling congregants to vote for a certain party or candidate, they would also be penalized for coming out strongly on an issue on which the parties were opposed, such as abortion or same-sex marriage.

One official said, "The best thing for a charity to do, especially during an election, is to stay away from those issues. There are certain issues, especially during election times, that are very political." All moral issues including even poverty seem to be covered by the election time gag-order on religions. Giving an example, the official said, "Taking out a full-page ad before Christmas on homelessness might not be considered political, but doing the same thing the week of an election might be considered political."
It'll be interesting to watch whether or not Canadian churches say, "Yes, Massa," to the CRA or obey their real Master in this matter.
Posted by Valerie (Kyriosity) at 8/26/2004 02:59:00 PM • • Permalink
---
Links to this post:
---
Home