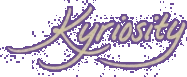 (KE'RE OS'I TE) N., A LONGING TO LOOK
INTO THE THINGS OF THE LORD [C.1996 < GK.
KYRIOS LORD + -ITY; IMIT. CURIOSITY]
Visit The Old Kyriosity Shop

Saturday, August 14, 2004 AD

Attack of the Killer Tomatoes
My neighbor Mr. Henry had brought over a couple tomatoes from his garden, of which half of one made its way into my tuna salad tonight. I say it is a killer tomato because it is to die for.

Tomatoes remind my of a fellow called Jeff, with whom I worked in Yellowstone in 1988. He liked to call 'em 'maters. I didn't have the sense God gave a rock at that point in my life (I have since gained about the sense of a rather smallish pebble), so I was regularly developing too-close friendships with guys, often remaining completely oblivious to the fact that they were attracted to me. That's what happened with Jeff.

I will always remember him fondly as the first (and, so far, only) man who ever proposed to me. Jeff was not a believer, and that was only the chief of his many disqualifications, so I've never regretted saying no. But I know he asked because he had just enough sense of right and wrong and just enough respect for me to know it was his only possible shot of getting me into bed. I pray he's progressed a bit more on his understanding of such things.

The first boy who propositioned me didn't have quite that much finesse.

Scene 1 [15-year-old Valerie is sitting at a picnic table. Andre, also about 15, whom Valerie doesn't know beyond his name, walks over and sits across from her.]

Andre: Would you go out with a black guy.
15-year-old Valerie: Sure [Unspoken: By which I mean, in the abstract, not necessarily in the case of the person currently speaking to me.]
Andre: Would you sleep with him?
15-year-old Valerie (with a mix of indignation and amusement): If I were married to him!
Andre: [expletive deleted] [walks away]

Scene 2

15-year-old Valerie (with far more amusement than indignation at this point): [Recounts the incident to Mr. Green (who is also African American), the director of the summer program she and Andre are both attending.]
Mr. Green (with far more indignation than amusement): That boy can't even pass Algebra 1. What does he think he has to offer you?

Once again, a post has meandered into places that have nothing to do with where it started out. But it's fun to see how thoughts and memories are connected in our minds, innit?
Posted by Valerie (Kyriosity) at 8/14/2004 09:37:00 PM • • Permalink
---
Links to this post:
---
Home