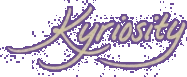 (KE'RE OS'I TE) N., A LONGING TO LOOK
INTO THE THINGS OF THE LORD [C.1996 < GK.
KYRIOS LORD + -ITY; IMIT. CURIOSITY]
Visit The Old Kyriosity Shop

Tuesday, July 06, 2004 AD

Two Years
Today is my second blogiversary. My first post, on July 6, 2002, promised the sublime and the ridiculous. I'm sure I've delivered on half.

On this auspicious occasion, I pause to ask, Why? What's the point? Is this just a vehicle for narcissistic navel-gazing, or does it have some value? Is it more glorifying to God or to Valerie? Does it advance His agenda or mine? Does it really serve my neighbor or just myself? Does it exhibit more wisdom or foolishness?

Now I realize that if you are reading this, you are likely a biased respondent to such questions. If you thought it was worthless dreck (or at least if you were willing to admit it was worthless dreck) you wouldn't be reading it. But at least think about it before you answer: Should I keep blogging? Why or why not?
Posted by Valerie (Kyriosity) at 7/06/2004 08:50:00 AM • • Permalink
---
Links to this post:
---
Home