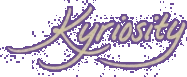 (KE'RE OS'I TE) N., A LONGING TO LOOK
INTO THE THINGS OF THE LORD [C.1996 < GK.
KYRIOS LORD + -ITY; IMIT. CURIOSITY]
Visit The Old Kyriosity Shop

Monday, July 19, 2004 AD

A Sound I Like Very Much
We sang Psalm 42 from Cantus Christi yesterday. (Well, technically we sang it from photocopies, but I was happy to find it in CC when I looked this evening.) It was yummy, even though I never did get the timing quite right at the end. I'm practicing it for next time.

Aha! That's also the tune for "Comfort, Comfort Ye My People" (at least in CC). When I needed something to sing for an Advent/Christmas concert a couple years ago, I wanted to write something, but couldn't manage any original lyrics that I liked. So I looked for a hymn whose tune I didn't know in order to compose new music for it. I settled on "Comfort, Comfort" and added a refrain/chorus (is there a difference between a refrain and a chorus?) thingie. It's nice to be able to sing it with a real hymn tune.

The Cyber Hymnal (did I mention hating the sound of MIDIs?) uses a different tune. The tune in CC, "Freu Dich Sehr," they have here with different timing and these words:

Print Thine image, pure and holy,
On my heart, O Lord of Grace;
So that nothing, high or lowly,
Thy blest likeness can efface.
Let the clear inscription be:
Jesus, crucified for me,
And the Lord of all creation,
Be my Refuge and Salvation.
Posted by Valerie (Kyriosity) at 7/19/2004 07:59:00 PM • • Permalink
---
Links to this post:
---
Home