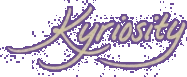 (KE'RE OS'I TE) N., A LONGING TO LOOK
INTO THE THINGS OF THE LORD [C.1996 < GK.
KYRIOS LORD + -ITY; IMIT. CURIOSITY]
Visit The Old Kyriosity Shop

Thursday, July 22, 2004 AD

Potty Poetry
The porcelain facilities in the office where I work are not always effective in the first-try disposal of their contents, so I wrote the following poem, which I printed on a tasteful poster with a pretty flower. A copy hung in each stall in the ladies room for a couple years 'til somebody finally took them down a few months ago.
Please be nice
And stick around
To flush it twice
If it don't go down.
I bet it's the most well-known verse I've ever written. I bet every woman who worked on this floor before it was removed could quote it to you. And if that ain't enough to keep a girl humble, I don't know what is!
Posted by Valerie (Kyriosity) at 7/22/2004 10:19:00 AM • • Permalink
---
Links to this post:
---
Home