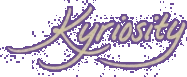 (KE'RE OS'I TE) N., A LONGING TO LOOK
INTO THE THINGS OF THE LORD [C.1996 < GK.
KYRIOS LORD + -ITY; IMIT. CURIOSITY]
Visit The Old Kyriosity Shop

Tuesday, July 27, 2004 AD

New, from Tyndale House, It's The Photographers' Bible™!
With a lens built into the spine, this version of God's word is designed especially for the Christian photographer. Five megapixels give the clear resolution a godly shutterbug needs to discern the truth. A 32MB storage card comes free with every purchase. Additional cards are available -- see Accessories on page 12 of the catalogue.

Commentary placed on pages throughout the text will make God seem as close as if you were looking at Him through a telephoto lens. For example, in Genesis 1, where God says, "Let there be light," our scholars have provided for you biblical insights into the use of flashes in your work. As the scales fall from Saul's eyes in Acts 9, you'll be treated to an exposition on the removal of lens caps. And the wild apocalyptic passages of Revelation are accompanied by tips on applying psychadelic effects with PhotoShop.

The Photographers' Bible™ is a must for any serious or casual photographer who really wants to be a well-developed disciple of Christ.

Available in Black or Burgundy bonded leather, in KJV or NIV for just $399.95!

I posted this on a forum when a friend apologized for not not having a camera in his Bible when he paid a surprise visit to Bret's church on Sunday. Thought it might be appreciated by a wider audience!
Posted by Valerie (Kyriosity) at 7/27/2004 11:54:00 AM • • Permalink
---
Links to this post:
---
Home