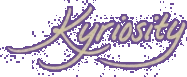 (KE'RE OS'I TE) N., A LONGING TO LOOK
INTO THE THINGS OF THE LORD [C.1996 < GK.
KYRIOS LORD + -ITY; IMIT. CURIOSITY]
Visit The Old Kyriosity Shop

Tuesday, July 20, 2004 AD
More on Expectations for Kids
I have been pondering the idea of 'expectations', as in 'what kind of behavior should you expect from a 1 year old child?' This is the conclusion I have come to: when a child is born, his parents should EXPECT him to behave as an adult. Yes, that sounds weird...but if you are a Christian person, you believe that your child should grow into an adult that exhibits the Fruits of the Spirit--namely, Love, Joy, Peace, Patience, Kindness, Goodness, Faithfulness, Gentleness, and Self-Control. (Galatians 5:22). So when that child is born, you should expect him to have a character that exhibits these fruits. If you do, than when you look at the child and see him exhibiting behavior that doesn't fit the picture, you correct him. It's a simple concept, but I think it's a very profound one. If you merely 'expect' your baby to act like a baby, he's not going to be trained to be anything different than a baby. Children are supposed to grow into adults, so all the training of childhood is aimed at creating a good adult. If a parent only expects their child to be a child of a particular age group, that's what they're going to get."
I suspect the young lady who wrote this was raised with those sorts of expectations.

Read the rest of her blog. It's only been up two weeks, so it won't take long. Read from the earliest posts up (the quote is from the first one). And if you can read the posts about Elaina with a dry eye...well...I worry for you.
Posted by Valerie (Kyriosity) at 7/20/2004 09:03:00 PM • • Permalink
---
Links to this post:
---
Home