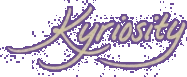 (KE'RE OS'I TE) N., A LONGING TO LOOK
INTO THE THINGS OF THE LORD [C.1996 < GK.
KYRIOS LORD + -ITY; IMIT. CURIOSITY]
Visit The Old Kyriosity Shop

Monday, July 19, 2004 AD

Loud Mechanical Noises I Hate
I would rather be a little warmer than have the fan on too high, because I hate the sound.

I would rather have slightly (though not dangerously!) reduced visibility than have the windshield wipers on too high, because I hate the sound. Ideally, the sound of the rain will help drown out the sound of the wipers if run at higher speeds.

I hate lawnmowers.

I hate the beeping sound trucks make when they back up.

I hate my co-workers' choice of cell phone rings. Actually, I hate most telephone rings, but those are particularly bad.

I hate printers that screech.

I hate busy signals.

I hate the timer on my oven.

I hate alarms of any sort -- alarm clocks, car alarms, sirens, error beeps, etc.

(07/20) Thought of another one to round out the list at 10: I hate most children's toys that make sounds on their own. Especially Kate's infamous talking phone. It would "talk" to the user in a drawling, demonic voice that said things like "What's your dog's name?" It was evil inplastate (um, which is a word I just made up to mean incarnate, but in plastic).
Posted by Valerie (Kyriosity) at 7/19/2004 07:39:00 PM • • Permalink
---
Links to this post:
---
Home