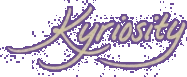 (KE'RE OS'I TE) N., A LONGING TO LOOK
INTO THE THINGS OF THE LORD [C.1996 < GK.
KYRIOS LORD + -ITY; IMIT. CURIOSITY]
Visit The Old Kyriosity Shop

Monday, July 12, 2004 AD

Has the American Church Been Performing Homosexual Marriages for Decades?
Is that title provacative enough?

Something RCJR said on a tape series I'm listening to (Signs and Seals--third from the bottom) makes me ask this. He talked about the reaction most of us have probably had when attending a wedding where the bride doesn't vow to obey or submit: "She must be some kind of a feminist and he must be some kind of a wuss." (Actually, I think RC said it nicer than I just did, if you can believe that!) American churches, including many Evangelical ones, have for decades allowed marriage vows that speak not at all to the biblical roles of husbands and wives, i.e., headship and submission. Is this not a) an evisceration of the very nature of marriage, and b) an implicit acknowledgement of the interchangeableness of men and women? And if the sexes are interchangeable in their marriage roles, why shouldn't they be interchageable in bed? The Church acquiesced to spiritually homosexual marriage decades ago. So as the Dougs, for related reasons, point out, the American Evangelical Church has little right to moral outrage over the advent of physically homosexual marriage.

Of course homosexual "marriages" are not marriages at all. I'm not quite willing to say that marriages performed without acknowlegment of biblical roles aren't necessarily marriages, but it probably wouldn't take a whole lot to convince me of that notion. The thing that keeps me from going that far is the awareness of many Christian couples who wed with foolish, role-less vows and later came to embrace biblical roles. I'm not willing to say they'd hitherto been living out of wedlock, though they had been living in sin, in a broader-than-we-usually-mean-by-that-term sense. And I'm thinking it might be a fabu idea for such couples to renew their vows and do it the right way the second time around.
Posted by Valerie (Kyriosity) at 7/12/2004 09:16:00 PM • • Permalink
---
Links to this post:
---
Home