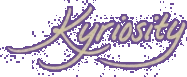 (KE'RE OS'I TE) N., A LONGING TO LOOK
INTO THE THINGS OF THE LORD [C.1996 < GK.
KYRIOS LORD + -ITY; IMIT. CURIOSITY]
Visit The Old Kyriosity Shop

Wednesday, July 07, 2004 AD

Contentment Survey
OK, here's what I got out of last week's survey on contentment. The bottom line seems to be that we'd all be content if we were in control. We want control over...
God -- He should sanctify me the way I want and when I want.
Parents -- They should have done a better job.
Spouses -- I should get one, he should be exactly what I expected him to be, and our marriage should be exactly in keeping with my dreams.
Children -- They should come when I want, and then behave as I want.
Friends -- I should have as many as I want, and of the right sort, and in the right place.
Churches -- First Perfect Church should be right next door to my house, no matter where I live. My leaders should lead exactly the way I want to be led, or, better yet, they should just get out of my way so I can lead the right way.
People -- They should follow my rules (which I may ever-so-carefully refer to as "the" rules, though I'm really more concerned with my own standards, not God's or anybody else's), and they should always admire and love me.
Circumstances -- I should never be sick, tired, lost, or otherwise inconvenienced.
Money -- I should have all I want, and all the stuff I want to buy, and not have to owe anybody else.
Self -- I should be as thin, as beautiful, as good as I wish to be at any given moment while simultaneously pursuing my own agenda and appetites.
Of course points 2-10 are all subsets of point 1. Discontentment is just the same old self-idolatry that is the only other option to submitting to the sovereign rule of God.
Posted by Valerie (Kyriosity) at 7/07/2004 11:03:00 AM • • Permalink
---
Links to this post:
---
Home