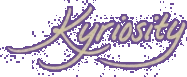 (KE'RE OS'I TE) N., A LONGING TO LOOK
INTO THE THINGS OF THE LORD [C.1996 < GK.
KYRIOS LORD + -ITY; IMIT. CURIOSITY]
Visit The Old Kyriosity Shop

Thursday, July 08, 2004 AD

Coming Soon, to a Prison Near You!
From World Net Daily:
A Swedish court has sentenced Ake Green, a pastor belonging to the Pentecostal movement, to a month in prison, under a law against incitement, after he was found guilty of having offended homosexuals in a sermon, according to Ecumenical News International.

Green had described homosexuality as "abnormal, a horrible cancerous tumor in the body of society" in a 2003 sermon.
How long can it be before this happens in Canada or the States? Should we start a betting pool?

"Remember those who are in prison, as though in prison with them, and those who are mistreated, since you also are in the body."

"Blessed are you when others revile you and persecute you and utter all kinds of evil against you falsely on my account. Rejoice and be glad, for your reward is great in heaven, for so they persecuted the prophets who were before you."
Posted by Valerie (Kyriosity) at 7/08/2004 02:04:00 PM • • Permalink
---
Links to this post:
---
Home