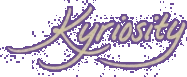 (KE'RE OS'I TE) N., A LONGING TO LOOK
INTO THE THINGS OF THE LORD [C.1996 < GK.
KYRIOS LORD + -ITY; IMIT. CURIOSITY]
Visit The Old Kyriosity Shop

Thursday, July 22, 2004 AD

Bragging Online About a Double Murder
I know lots of others have already blogged about this charming article, but here's a couple cents' worth from me:
On the subway, Peter asked, ''Shouldn't we consider having triplets?'' And I had this adverse reaction: ''This is why they say it's the woman's choice, because you think I could just carry triplets. That's easy for you to say, but I'd have to give up my life.''
"Greater love hath no man than this, that he lay down his life for his friends."

"By this we know love, that he laid down his life for us, and we ought to lay down our lives for the brothers. But if anyone has the world's goods and sees his brother in need, yet closes his heart against him, how does God's love abide in him?"

Isn't this so much at the heart of every sin? We disobey God because we don't want to lay down our lives -- not the least little bit of our comfort. And we're sure that we know better than the God of all comfort what will truly bring us comfort. We know better than the God at whose right hand are pleasures forevermore what will bring us pleasure.
Not only would I have to be on bed rest at 20 weeks, I wouldn't be able to fly after 15. I was already at eight weeks. When I found out about the triplets, I felt like: It's not the back of a pickup at 16, but now I'm going to have to move to Staten Island. I'll never leave my house because I'll have to care for these children. I'll have to start shopping only at Costco and buying big jars of mayonnaise.
Oh no! Not the big jars of mayonnaise! Horrors!!!
When we saw the specialist, we found out that I was carrying identical twins and a stand alone. My doctors thought the stand alone was three days older. There was something psychologically comforting about that, since I wanted to have just one.
There was something comforting about murdering twins? From a sheer cuteness factor, the thought ought to repulse even secular minds.

Vengeance is the Lord's. He will repay. I'll just rant a little bit in the meantime.
Posted by Valerie (Kyriosity) at 7/22/2004 11:46:00 AM • • Permalink
---
Links to this post:
---
Home