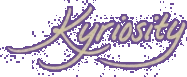 (KE'RE OS'I TE) N., A LONGING TO LOOK
INTO THE THINGS OF THE LORD [C.1996 < GK.
KYRIOS LORD + -ITY; IMIT. CURIOSITY]
Visit The Old Kyriosity Shop

Friday, June 11, 2004 AD

Now That's Hospitality
A colleague just told a story of an encounter with baboons in a Tanzanian jungle. She was studying butterflies and was on her usual route collecting data when one thing led to another and she found herself being chased by baboons. She knew three things about baboons: 1) they have the longest canine teeth of any animal in Africa, 2) they can tell the difference between human males and females and aren't afraid of the latter, and 3) they travel in troops of about 70. She didn't stop to count, and was soon running pell-mell down the mountain. At one point she paused to look back and managed to lock eyes for a few seconds with a large male (five feet tall -- about her own height) in a tree just a few yards away. This was the wrong thing to do. It dropped to the ground facing her. She started flying again, by this time in tears and terror. She stopped briefly at a fork in the path -- the noise of the baboons had subsided somewhat -- and attempted to read a sign posted there, but her Swahili wasn't good enough yet. It said something about "pass here", but there was no way of knowing whether it was pointing out danger or safety. That's when she noticed she was standing in a huge anthill and ants were starting to swarm over her (her pant cuffs were stuffed in her socks, at least). She decided to risk whatever the sign might portend, and started running again. Eventually she got out of the jungle and found herself in someone's backyard. The Tanzanian housewife hanging out her laundry who suddenly found herself confronted with a strange young white woman flying out of the jungle, covered head to toe in mud and ants, red-faced and blotchy with exertion and tears, and carrying an incongruously huge butterfly net, said, of course, "Won't you please come in?"

The hospitality skills of most Americans are closer to those of the baboons.
Posted by Valerie (Kyriosity) at 6/11/2004 04:12:00 PM • • Permalink
---
Links to this post:
---
Home