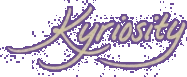 (KE'RE OS'I TE) N., A LONGING TO LOOK
INTO THE THINGS OF THE LORD [C.1996 < GK.
KYRIOS LORD + -ITY; IMIT. CURIOSITY]
Visit The Old Kyriosity Shop

Sunday, June 20, 2004 AD

I Love the Smell of Grace in the Morning
It smells like...victory.

I commented on Brian's June 15 post that incense is not the only option for olfactory stimulus in worship. I love the smell of real bread and real wine at the Lord's Table. This morning CREC met under a pavilion at Conquest Beach on the Chester River. Since there was a breeze blowing, the scent of the elements was harder to catch, so once they were distributed I held my folded hands to my face in what I hoped looked like a posture of prayer. I was praying, but I was also sniffing.

I almost didn't go to CREC this morning. It's a long enough haul most Sundays to Annapolis -- the Eastern Shore seemed too far to go. But it's a) the third Sunday of the month, and b) Fathers' Day. I couldn't think of anyplace closer where a) I'd get to eat the Lord's Supper, and b) I wouldn't be subjected to a topical sermon in recognition of an imaginary holy day. After last week's struggles I needed to eat and drink grace. I needed to hear and see and touch and smell and taste the victory feast of the "mighty Victim from the sky."

It was good.
Posted by Valerie (Kyriosity) at 6/20/2004 08:45:00 PM • • Permalink
---
Links to this post:
---
Home