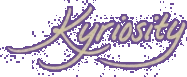 (KE'RE OS'I TE) N., A LONGING TO LOOK
INTO THE THINGS OF THE LORD [C.1996 < GK.
KYRIOS LORD + -ITY; IMIT. CURIOSITY]
Visit The Old Kyriosity Shop

Thursday, June 17, 2004 AD

Barb Will Sympathize
I got home tonight to find a spider spinning a web from my porch light to my mailbox. Well, that's a little to close to where I need to be putting my hands, so Ms. Spider was immediately under a death sentence. Did you know if you spray Raid on a spider web it looks just like a pretty picture of a web covered in dew?

A few weeks ago I found a really big, hairy spider drowned in a bowl I'd left to soak in the kitchen sink. And now you know why I never, ever, ever reach my bare hands down a garbage disposer to fish out foreign objects.
Posted by Valerie (Kyriosity) at 6/17/2004 10:49:00 PM • • Permalink
---
Links to this post:
---
Home