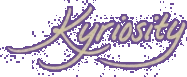 (KE'RE OS'I TE) N., A LONGING TO LOOK
INTO THE THINGS OF THE LORD [C.1996 < GK.
KYRIOS LORD + -ITY; IMIT. CURIOSITY]
Visit The Old Kyriosity Shop

Monday, May 10, 2004 AD

'Let Us Have a Little Fermentation with Our Eucharistic Celebration'
We missed the Lord's Supper yesterday at CREC because the pastor was out of town and the sub preacher was an unordained intern. "Just a Little Wine" ( words | MP3 ) didn't come near making up for it, but it gave me a good laugh, at least. (Link via Mark.)

Since Eric will be gone again next week, I think I'll take the opportunity to visit elsewhere again. After three months of weekly communion, two weeks without it seems like a purgatorial length of time. (The church I want to visit won't feed me, either, but at least I'll get another shot at seeing the friends I missed on Maundy Thursday and Easter.) I don't think I could ever go back to monthly, and I wonder how anyone endures having it even less frequently!
Posted by Valerie (Kyriosity) at 5/10/2004 05:49:00 PM • • Permalink
---
Links to this post:
---
Home