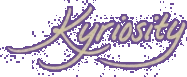 (KE'RE OS'I TE) N., A LONGING TO LOOK
INTO THE THINGS OF THE LORD [C.1996 < GK.
KYRIOS LORD + -ITY; IMIT. CURIOSITY]
Visit The Old Kyriosity Shop

Thursday, May 20, 2004 AD

How to Leave a Telephone Message
How to avoid a run-in with my Pet Peeve Department when leaving me a phone message:

1) Always leave your phone number. I don't care how many times I've called you in the past, unless I've specifically told you I have your number memorized, don't assume I know it or have it handy.

2) When you leave your number, speak slowly and clearly -- at a pace that would allow a normal human being to write. Practice doing this if you're not sure how slow to go. Usually a pause after the area code and the exchange will do the trick. Saying the number rapidly twice in succession is actually counterproductive.

3) Tell me why you are calling, and be specific. Unless you are a close friend, "I want to talk to you about something" isn't sufficient.

4) Don't ramble. Answering machines, whether digital or tape, generally have limited storage capacity. Get to the point.

5) Don't ask, "Are you there?" If I am, this question will more likely annoy me than entice me to answer the phone. If I'm not, you are wasting space on my machine.

6) Don't assume I know what time you called. Not all machines have time stamps, so asking me to call you back within the hour is a waste of breath if you don't tell me what hour.

7) If yours is a legitimate business call, rather than a personal call, spell your name.

8) If yours is an illegitimate business call, i.e., phone spam, don't call in the first place.
Posted by Valerie (Kyriosity) at 5/20/2004 10:17:00 AM • • Permalink
---
Links to this post:
---
Home