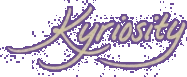 (KE'RE OS'I TE) N., A LONGING TO LOOK
INTO THE THINGS OF THE LORD [C.1996 < GK.
KYRIOS LORD + -ITY; IMIT. CURIOSITY]
Visit The Old Kyriosity Shop

Monday, May 10, 2004 AD

Flowers
The only reason I can cope with the passing of the forsythia and daffodils (the two best of all blooming things) each year is that I know the lilacs will be out soon. And after them, the azaleas (which I enjoy in other people's gardens, as I have none of my own), and after them the irises (the first blooms of which greeted me this morning), and after them the roses (which are starting to bud).

Of course the various other flowers and flowering trees are also a delight. The petals of one pink-blossomed tree on a nearby street all fell one calm day a couple weeks ago, creating an effect that looked for all the world like small drifts of pink snow.

This year I got a very special treat. Traveling northward at the end of April afforded me the experience of spring redux -- daffodils and forsythia all over again (a happy girl was I). I wonder if, in the new earth, we'll get to have the best of all blooming things all year 'round. Maybe, maybe not. But this is for sure--we'll have a far deeper and richer and purer appreciation of all the gifts of the new creation. Thy kingdom come...quickly!
Posted by Valerie (Kyriosity) at 5/10/2004 03:47:00 PM • • Permalink
---
Links to this post:
---
Home