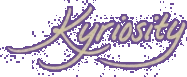 (KE'RE OS'I TE) N., A LONGING TO LOOK
INTO THE THINGS OF THE LORD [C.1996 < GK.
KYRIOS LORD + -ITY; IMIT. CURIOSITY]
Visit The Old Kyriosity Shop

Tuesday, May 04, 2004 AD

Everything's Going Exactly According to Plan!
I hit upon this last night as a new personal liturgy, complete with the gesture of clapping my hands and rubbing them together gleefully like a mad scientist. Of course this has naught to do with my own plans and is intended to remind me of the bigger and better plan by the Bigger and Better Planner, and to help me think rightly about things that don't go the way I would have chosen them to go.

About a minute after I started using this liturgy, one of my barrettes popped open. "Everything's going exactly according to plan!" said I (but without the hand gestures, because I was busy putting my hair back in order). It popped open again a couple seconds later. "Everything's going exactly according to plan" said I (with a little less enthusiasm as I reattached the barrette again). It didn't stay any longer than the first time. "Everything's going exactly according to plan, but this is getting annoying!" said I (through gritted teeth). I took out the barrette, fiddled with the clasp and put it back in. This time it stayed, having served the purpose of illustrating just how much need I have of practicing that liturgy 'til I really get the message through my thick Arminian skull.

I think I'm going to make an "EGEATP!" bracelet. And maybe when anybody asks me, "How's it going?" I'll be brave enough to learn the habit of responding with my new liturgy. I have grand visions of becoming absurdly cheerful as I beat myself over the head with this message!
Posted by Valerie (Kyriosity) at 5/04/2004 01:19:00 PM • • Permalink
---
Links to this post:
---
Home