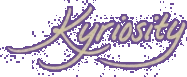 (KE'RE OS'I TE) N., A LONGING TO LOOK
INTO THE THINGS OF THE LORD [C.1996 < GK.
KYRIOS LORD + -ITY; IMIT. CURIOSITY]
Visit The Old Kyriosity Shop

Saturday, April 17, 2004 AD

Anybody Have the Pied Piper's Number?
God has graciously been giving me more and more reasons to move. The latest is rats. I saw rats in my own back yard a few days ago, and heard from a neighbor today that they are evidently thriving in the neighborhood...and throughout the city. He said a fellow up the street trapped 30-40 of 'em last year. As I'm facing giving up a lot in leaving the only home I've ever known, I've been talking to myself about it in terms of leaving Egypt for the Promised Land. A little overblown, perhaps, but somehow a plague of rats doesn't dissuade me from the nootion (yes, I know that wasn't one of the ten plagues, but humor me!). The locusts are expected back soon. And one of my best friends, whose now-abandoned house is just a few minutes from mine, witnessed a murder right across the street a few months ago -- rivers of blood, indeed.

I bought rat poison for my back yard. I just hope it doesn't attract the rabbits that also inhabit the neighborhood. Bunnies good. Rats bad.
Posted by Valerie (Kyriosity) at 4/17/2004 08:51:00 PM • • Permalink
---
Links to this post:
---
Home