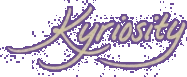 (KE'RE OS'I TE) N., A LONGING TO LOOK
INTO THE THINGS OF THE LORD [C.1996 < GK.
KYRIOS LORD + -ITY; IMIT. CURIOSITY]
Visit The Old Kyriosity Shop

Saturday, December 06, 2003 AD

What Is Hypocrisy?
The Dane recently asked whether a bindi-sporting Indian woman was a hypocrite for working at a burger joint. Which got me to thinking about the nature of hypocrisy.

I didn't think the woman was a hypocrite, but likened her to American cultural Christians who wear crosses or put up Christmas trees, or cultural Jews who don't keep kosher but still gather at grandma's for a seder every year. They aren't hypocrites, because they don't really claim to believe in the tenets of these faiths, they just follow a tradition or two here and there. So, first of all, to qualify as a hypocrite one must actually believe (or claim to believe) something.

But that's not a full definition, either. Every Christian belives that sin is a Bad Thing, man, but I've yet to meet one who's not quite adept and well-practiced at sinning. The second hypocrite qualification, then, is a claim to carrying out one's ideal beliefs.

The third qualification would be failing to carry them out. We need to exclude from the definition anyone whose claim to meeting some moral standard is actually true. Um...can anybody else think of more than one Person who fits this description?

So I'd define hypocrisy not just as a failure to practice what one preaches, but as a failure to practice what one preaches and claims to practice, especially if one condemns others for their moral failures in. Jesus called only the Pharisees and scribes hypocrites. He didn't use the term on the ordinary, garden-variety sinners he dealt with day to day.
Posted by Valerie (Kyriosity) at 12/06/2003 01:13:00 AM • • Permalink
---
Links to this post:
---
Home