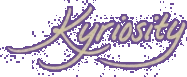 (KE'RE OS'I TE) N., A LONGING TO LOOK
INTO THE THINGS OF THE LORD [C.1996 < GK.
KYRIOS LORD + -ITY; IMIT. CURIOSITY]
Visit The Old Kyriosity Shop

Wednesday, December 24, 2003 AD

The Unexpected
On November 3 -- seven weeks ago -- I sent an e-mail to my friend Sarah in Alabama. In her last missive she'd inquired as to when I might be able to accept her family's long-standing invitation to visit. I replied that I had two weeks off at Christmas, but that I suspected they'd either be travelling or have guests. When I didn't hear back, I assumed my suspicion was correct.

Well it turns out that Sarah didn't read my e-mail 'til yesterday. As her daughter put it, "Mom! She could have already been here by now!" Sarah was disappointed and wrote to ask if there was any other holiday when I might be able to visit. I replied (and cc'd her husband, Mark, who I figured, correctly, would get it first) how 'bout New Year's? Sarah called this afternoon and said come on down! So after shifting some other plans and commitments, I'm heading southward on Friday. Since it's a long haul, I'm hoping to find a place to stay Friday night, but I may just have to drive straight through. I'll be driving straight through on the way down. Happily, I have found a place for the way back -- thanks, PBC!

Between the time I replied to Sarah's message and the time I heard back from her, I wept and begged God to allow me to go. After she called I wept some more and thanked Him. I've been longing to spend time with Mark and Sarah. I've longed for their counsel on some things I'm struggling with. I know I can trust them to understand where I'm coming from. I know I can trust them to answer me wisely from Scripture. And I know I can trust them to be sympathetic to the extent that I need sympathy and unsympathetic to the extent that I need a kick in the keister. Is there any better kind of counselor?

Anyway, the opportunity to take this trip is an unexpected gift from a gracious and sovereign God who supplies all my needs according to His riches in glory. Praise Him!
Posted by Valerie (Kyriosity) at 12/24/2003 11:34:00 PM • • Permalink
---
Links to this post:
---
Home