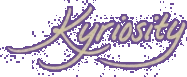 (KE'RE OS'I TE) N., A LONGING TO LOOK
INTO THE THINGS OF THE LORD [C.1996 < GK.
KYRIOS LORD + -ITY; IMIT. CURIOSITY]
Visit The Old Kyriosity Shop

Friday, December 19, 2003 AD

Sometimes It Pays to Be a Packrat
Finally getting ready to leave the office. Between the swelling and the Ace bandange, I can't get my shoes on. But wait! Since I had my Danskos delivered to the office, I took off my former shoes and they've been sitting under my desk ever since. And they fit!

It does not, however, pay to be an idiot who stays late at the office to play online. I have an offer to borrow crutches from a friend, but now it's too late to go pester her to pick them up, so I'm going to have to go 'til sometime tomorrow without them.

The last time I sprained an ankle it took months to heal because I didn't stay off of it, so I want to be a good girl this time and get onto crutches ASAP.
Posted by Valerie (Kyriosity) at 12/19/2003 10:10:00 PM • • Permalink
---
Links to this post:
---
Home