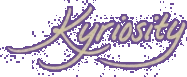 (KE'RE OS'I TE) N., A LONGING TO LOOK
INTO THE THINGS OF THE LORD [C.1996 < GK.
KYRIOS LORD + -ITY; IMIT. CURIOSITY]
Visit The Old Kyriosity Shop

Friday, December 19, 2003 AD

Silk
Any seamstresses out there know anything about silk?

I bought some black and silver Indian silk fabric on eBay a while back to make a blouse. Unfortunately, because the stripes went the opposite direction of what I was expecting, I don't have enough for the sleeves. But I will be able to make the blouse much longer -- sort of a salwar style. I want to buy some plain black to do the sleeves and also to make a pair of coordinating pants. There's enough silver from along one edge of the fabric to edge the sleeves and the pants cuffs, I think, to pull the whole thing together.

Unfortunately, silk doesn't seem to be available in any fabric stores around here. So I'm back to looking online. I didn't know there were so many different kinds of silk! I think habatai (China silk) is closest, but Dupioni might be a little heavier and therefore better for the pants. Would there be any problem with joining two slightly different types of fabric in the same garment?

When it's done I'm going to wear it with some silver and turqouise jewelry I have for a happy confusion of East Indian and American Indian.
Posted by Valerie (Kyriosity) at 12/19/2003 07:58:00 PM • • Permalink
---
Links to this post:
---
Home